Ask him what kind of music The Adrian West Band plays and Adrian will answer "Yes." Or if he's feeling cocky, he'll answer "Good."
The longer answer: original acoustic rock that sounds like Paul Simon collaborated with Talkingheads, and Dave Matthews played cowbell. The band features vocal harmonies, guitar, electric violin, bass, drums, sometimes tenor sax or keys, and live "looping".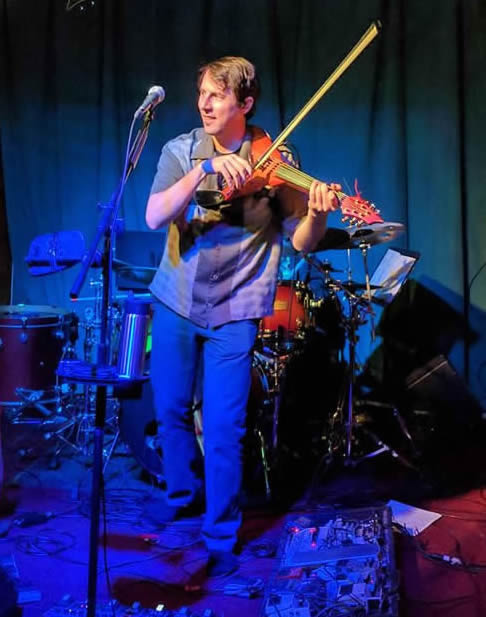 Photo by Heather Keevican
Born and raised in Montreal, Canada, Adrian is an exciting performer to watch. He sings in an uplifting, almost child-like voice as he moves effortlessy between guitar & violin, often using live looping to add layers of sound and intrigue to his songs. He's not afraid to tackle difficult topics in his songwriting; Safe Streets tells an allegory about police violence, Close Your Eyes laments the beauty bias that pervades in the mass media, while Senses implores that you enjoy your senses while you can. Adrian's lyrics are infused with a sense of hope and a touch of whimsy. The band features vocal harmonies, guitar, electric violin, bass, drums, and live "looping".
Adrian started playing violin at the age of four and in his teens studied classical violin at the McGill Conservatory of Music in Montreal. He later learned to play drums, guitar and developed his vocal and songwriting technique.
He moved to the San Francisco Bay Area in 1995 where as a sideman violinist he began supporting local Bay Area bands, playing some of the area's better known venues including the Fillmore, Yoshi's SF (main stage), Slim's, The Independent and The Sweetwater.