A random fan once said they sound like "The Apples in Stereo, They Might Be Giants and The New Pornographers got together and had an acoustic baby."
Vocal harmonies, acoustic guitar, electric violin, alto sax, upright bass, drums and live "looping". Duo and trio formats are also a thing.
Adrian's approach to songwriting starts with the music. To be engaging, a song must stand on its own musically, independent of the lyrics. He often composes the instrumental layers of a song from start to finish (chords, melodies, arrangement) before writing a single lyric. It's only when he has something with solid musical "legs" that he starts toying with lyrics that reflect both the mood of the music and his own musings, passions and concerns of the day.
Ever the realist, Adrian's lyrics strike a delicate balance between hope and despair, between poetic language and social justice messaging. He takes delight in setting real life topics to joyful music.
Born and raised in Montreal, Canada, Adrian is an exciting performer to watch. A gifted vocalist, he moves effortlessly between guitar & violin, sometimes using live looping to add layers of sound and intrigue to his songs. With a knack for language that's simple yet poetic, he's not afraid to tackle difficult subjects in his songwriting; Safe Streets tells an allegory about police violence, Lovers of the World voices an urgent environmental message, while Ironclad depicts human memory as a double-edged sword.
The band sometimes peppers their sets with interpretations of covers by the likes of Paul Simon, Dave Matthews, Talkingheads, Thelonious Monk, Peter Gabriel, Alanis Morisette, Kenny Garrett, Squeeze, Dolly Parton, Supertramp, Dave Brubeck, Tom Waits, The Pretenders, Billy Joel, Elton John, Elvis Costello, Noe Venable & even Maurice Ravel.
Adrian started playing violin at the age of four and in his teens studied classical violin at the McGill Conservatory of Music in Montreal. He later learned to play drums, guitar and worked on his singing and songwriting.
He moved to the San Francisco Bay Area in 1995 where as a sideman violinist he began supporting local Bay Area bands, playing some of the area's better known venues including the Fillmore, Yoshi's SF (main stage), Slim's, The Independent and The Sweetwater.
The Adrian West Band plays mostly their own originals but their repertoire sometimes includes covers by the likes of Paul Simon, The Pretenders, Roy Hargrove, Squeeze, Elvis Costello, Kenny Garrett, Supertramp, Dolly Parton, Thelonious Monk, Peter Gabriel, Elton John, Adele, Billy Joel, Joe Jackson, Elliott Smith, Coldplay, Tom Waits, The Beatles, Noe Venable, Abba, Thelonious Monk & Maurice Ravel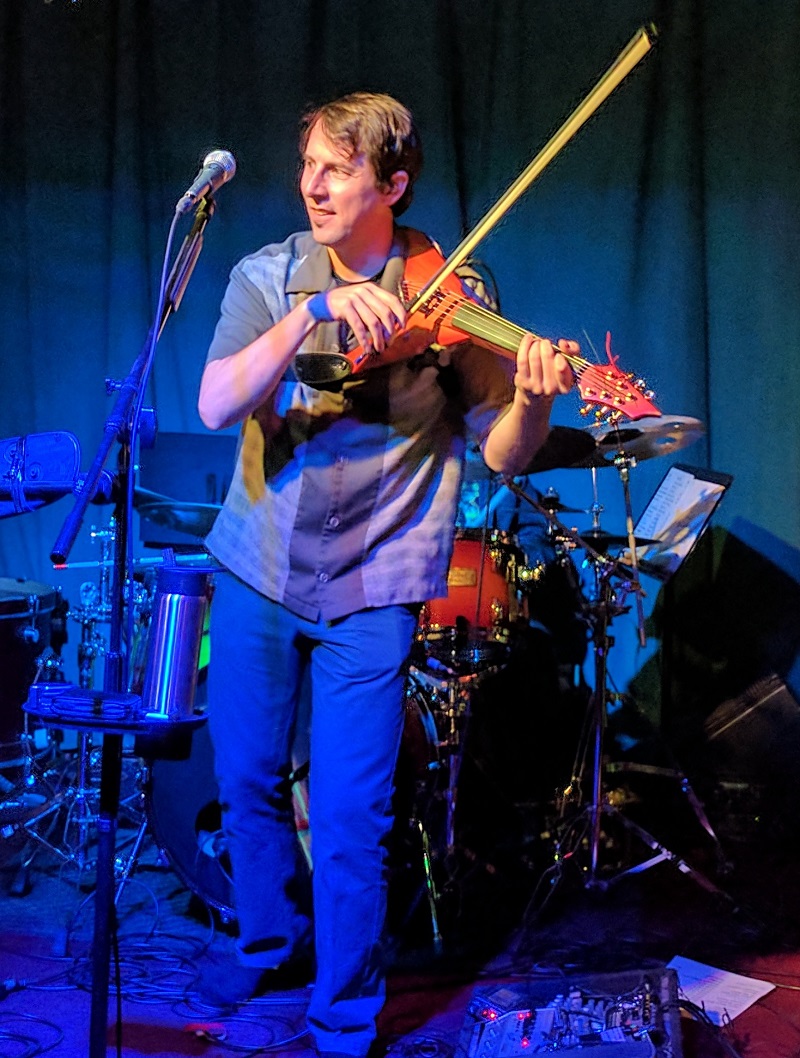 Photo by Heather Keevican